I am always looking for good pumpkin recipes in the fall. This did not disappoint - it's a bonus when you have all of the ingredients on hand. I frozen these and plan to serve at a girls night next weekend.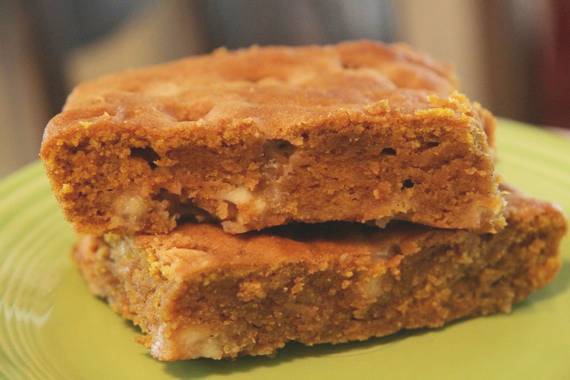 Pumpkin Blondies
Ingredients
2 cups all-purpose flour
1 tbsp. pumpkin pie spice (see note)
1 tsp. baking soda
¾ tsp. salt
16 tbsp. unsalted butter, at room temperature
1¼ cups granulated sugar (or brown sugar)
1 large egg
2 tsp. vanilla extract
1 cup pumpkin puree
1 cup white chocolate chips
1 cup butterscotch chips
½ cup chopped, toasted nuts (optional)
Preheat the oven to 350° F. Line a 9×13-inch baking dish with foil. In a medium bowl, combine the flour, pumpkin pie spice, baking soda and salt. Stir together and set aside.
In the bowl of an electric mixer fitted with the paddle attachment, beat together the butter and sugar on medium-high speed until light and fluffy, about 2 minutes. Beat in the egg and vanilla until well combined. Mix in the pumpkin puree. With the mixer on low speed add the dry ingredients and mix just until incorporated. Fold in the white chocolate and butterscotch chips (and nuts, if using) with a rubber spatula.
Spread the batter evenly into the prepared pan. Bake until the edges begin to pull away from the sides of the pan and a toothpick inserted in the center comes out with just a few crumbs, about 35-40 minutes. Transfer the pan to a wire rack and let cool completely before cutting.
To serve, lift the cake from the pan using the foil and transfer to a cutting board. Peel off foil and using a sharp knife, cut into 24 squares.
If you don't have pumpkin pie spice on hand - I dug this up as a way to make from spices:
Measure 1/2 teaspoon of cinnamon into a small bowl or cup.
Add 1/4 teaspoon of ground ginger.
Add 1/8 teaspoon of ground allspice or ground cloves.
Add 1/8 teaspoon of ground nutmeg.
Stir to blend.
Makes 1 teaspoon of pumpkin pie spice.